Coast to Coast: How North American Dealerships Are Thinking About the Net-Zero Movement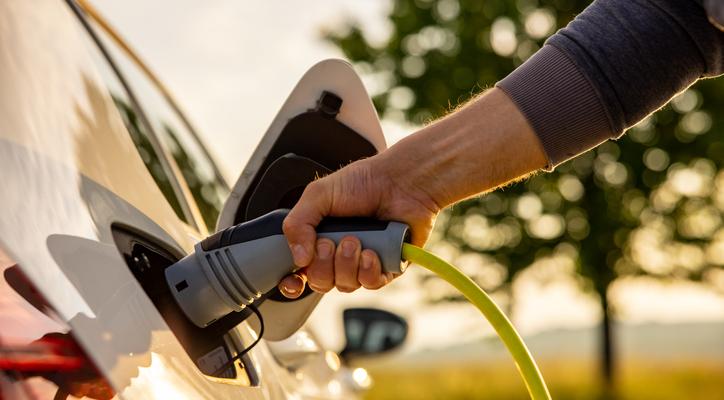 Whether it's Canada's ambitious net-zero emissions initiative or the Biden administration's plan to have electric vehicles account for half of all new car and truck sales by 2030, the automotive industry plays a key role in working toward national climate goals. But it's clear that there are competing considerations and realities of the current macro environment against these goals.
That was one of the key findings of BMO's first North American Commercial Banking Auto Dealership Survey. In April 2023, we surveyed more than 130 dealer principals and C-suite leaders across Canada and the U.S. to better understand their readiness regarding carbon footprint reduction.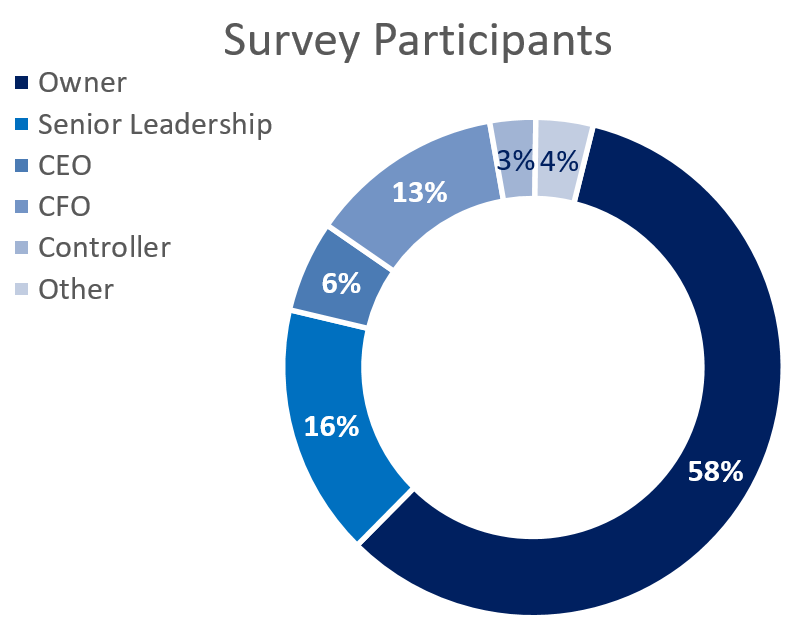 Some of the issues and challenges respondents said they are facing include:
The impact on profitability due to potentially reduced servicing opportunities

Finding constructive solutions with original equipment manufacturers to support dealership readiness to operate in the EV market

Questions around consumers' ability to afford EVs
While all these topics are worthy of discussion individually, there's a much larger consideration when taken together. That is, what type of support will dealerships need to navigate the challenges that emissions-reduction efforts could pose to the sector and their business models?
Where do dealerships stand on net-zero?
It's no surprise that nearly all respondents—87%— reported having at least some understanding of net-zero's implications on the automotive industry. Nonetheless, there's an opportunity to shift some of the 51% who are "somewhat familiar" to the "very familiar" category.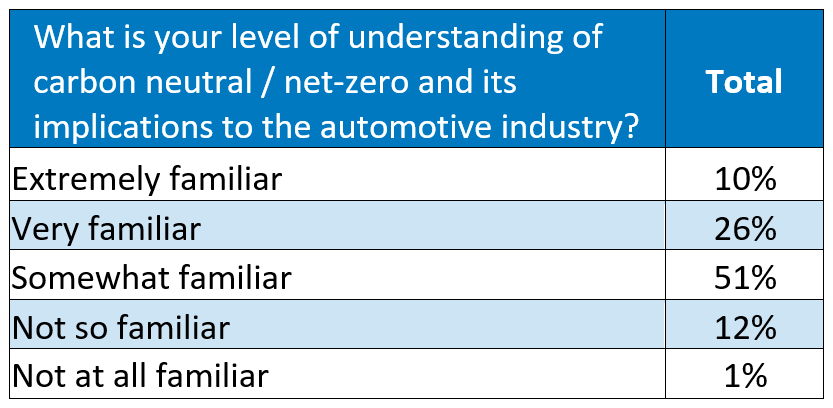 What was surprising was the identical response in Canada and the U.S. with 39% of respondents reporting plans in place to reduce their carbon footprint over the next 18 months. That's not talk, that's action. But should that number be higher?
For an industry that has gone from a stable and undisrupted business model to one undergoing a rapid pace of change with new entrants, we find a 39% action rate to be quite promising and a sign of great momentum. After all, it takes time and money to build or retrofit a dealership, but it's clear that many plans are in place and conversations around the evolution of dealerships are well under way.
As expected, there are some pockets of resistance. Some respondents commented that they view the move to green as a tax on their resources. Other owners, however, indicated that they want to be proactive in the shift because net-zero matters to them, while others are more focused on return on investment from carbon-related initiatives, including:
Optimizing service bays to support EV repairs and continuing to install EV charging stations (Levels 2 and 3)

Remodelling their stores to include alternative energy sources. Solar rooftops are becoming a serious option depending on geography and incentive programs

Transitioning to LED lighting, and enhancing or replacing HVAC systems to reduce energy consumption
What keeps dealers up at night?
Dealerships across Canada and the U.S. are aligned when it comes to the areas causing the most concern around net-zero efforts.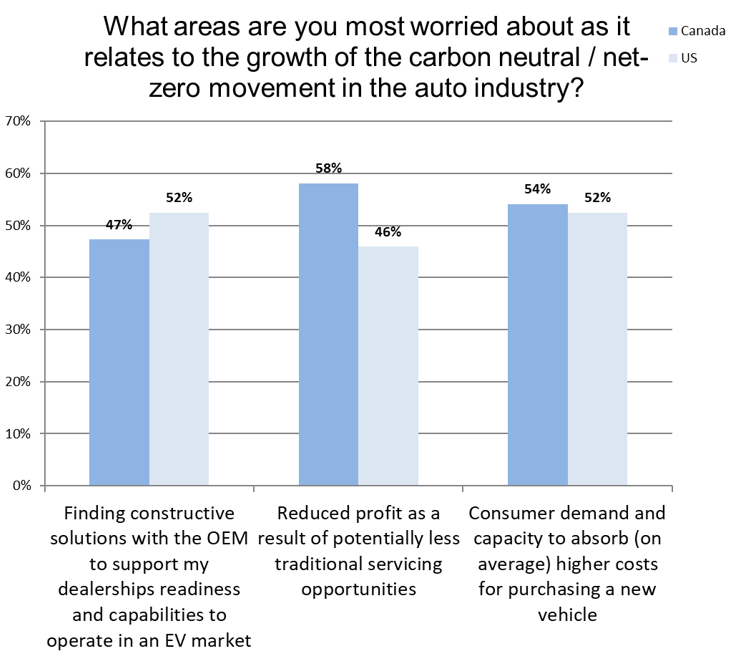 By a wide margin, dealerships in Canada are more concerned about reduced profitability. Meanwhile, U.S. dealerships are more concerned with finding constructive solutions with OEMs to support their readiness for operating in an EV market. Based on our conversations with dealerships on both sides of the border, it's likely due to U.S. dealerships receiving OEM pressure ahead of their Canadian counterparts.
But more than half of the dealers in both countries are concerned about whether consumers can afford the cost of an EV. Aside from the higher sticker price, both the U.S. and Canada have experienced an extremely rapid interest rate tightening cycle. The average monthly payment for new vehicles in the U.S. hit an all-time high in Q1 2023, up 11% vs the same period last year, according to a recent data from Edmunds.
What did not make the top three areas of concern involves real estate and whether it meets OEM and client expectations. Dealers appear to feel confident they have the right footprint. What's expected to change is how their spaces are designed and optimized to make the experience more enjoyable for consumers.
We also noted little concern regarding the lack of clarity around revenue sharing between OEMs and dealerships for subscription services added to EVs once vehicles have left the lot. This topic is in the rearview mirror for now, but it's a theme that may gain traction in the coming years.
What do dealers need moving forward?
Given dealers' concerns around profitability and consumer demand, working with partners and trusted advisers that understand how carbon reduction efforts can impact their business will be a key to success. The survey indicates that dealers are aware of this need. Over 80% of respondents believe financial institutions have a clear role to play in their evolution, with a particular emphasis on the following:
More than 40% of dealers are looking for help to navigate government subsidies, tax incentives and grants, with the need being felt most in Canada.

More than 40% desire relevant tips on improving day-to-day activities, such as optimizing service bays

Nearly 30% are looking for deposit and loan solutions that are potential sweeteners for meeting carbon reduction goals
This is an industry in transition. Whether they're actively engaged in emissions-reduction efforts or searching for cost-effective ways to adapt to the new realities, it's clear that dealerships are looking for partners who can help them navigate net-zero requirements while unlocking new revenue streams and reducing operating costs.
Adam Doran, Managing Director, Automotive Finance, contributed to this article.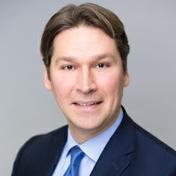 Andre Salvi
Head, Commercial Dealer Finance, Canada
416-643-4414
416-643-4414
Sending message, please wait ...
Send a Message
Send a message to the banker
* Mandatory Fields
Your message has been sent.
The banker will be in contact with you.
Andre Salvi is Head, Commercial Dealer Finance, Canada. Having joined BMO in 1999, Andre has held senior roles in BMO's investment banking; private equit…(..)
View Full Profile >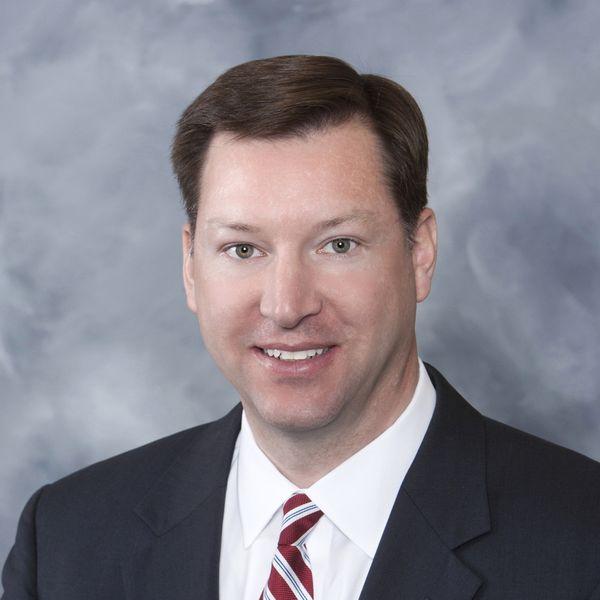 Ghram Debes
Managing Director and Head, BMO Dealer Finance, U.S.
312-461-5911
312-461-5911
Sending message, please wait ...
Send a Message
Send a message to the banker
* Mandatory Fields
Your message has been sent.
The banker will be in contact with you.
Ghram Debes is a Managing Director and head of BMO's Dealer Finance group. He was also a founding member of the group in 2010. The group's mandate is to ori…(..)
View Full Profile >
Michael Torrance | April 25, 2023 | Business Strategy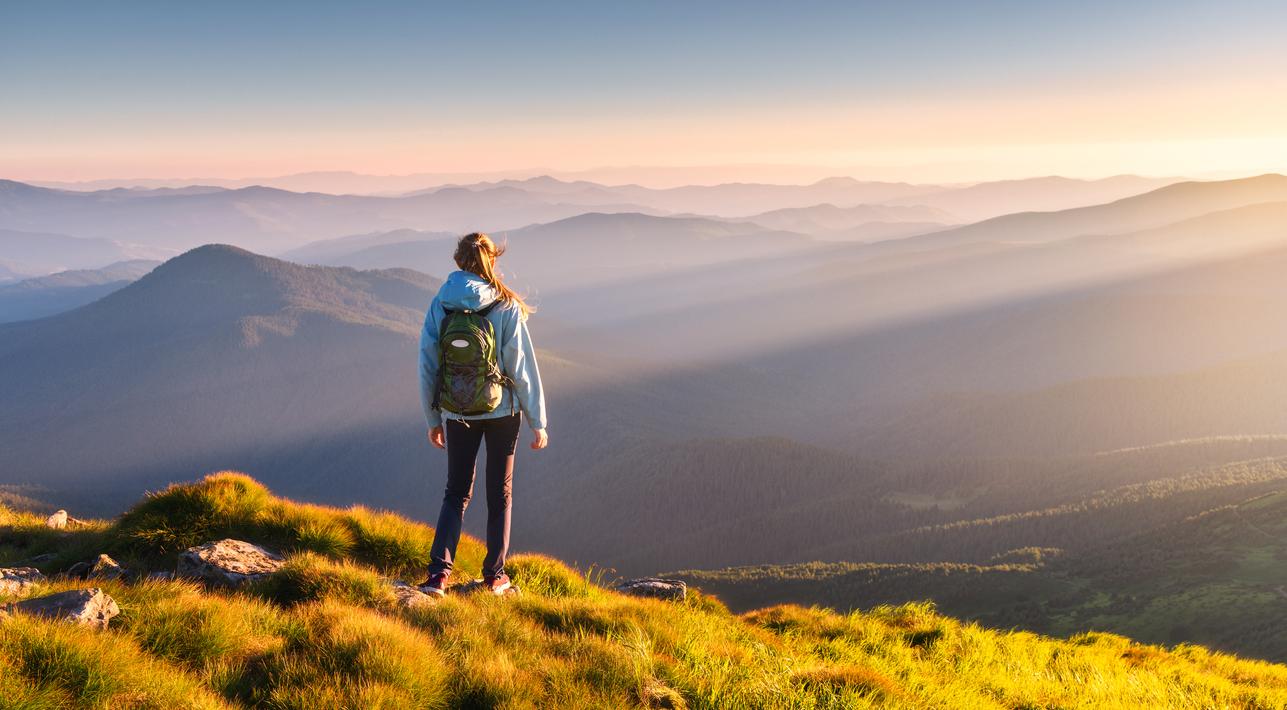 The more access we have to data about the Earth and climate, the better we can monitor, map and predict changes in carbon emissions and the risks of …
Continue Reading>
---
---
Tell us three simple things to
customize your experience